Documenting all the places
personal data goes.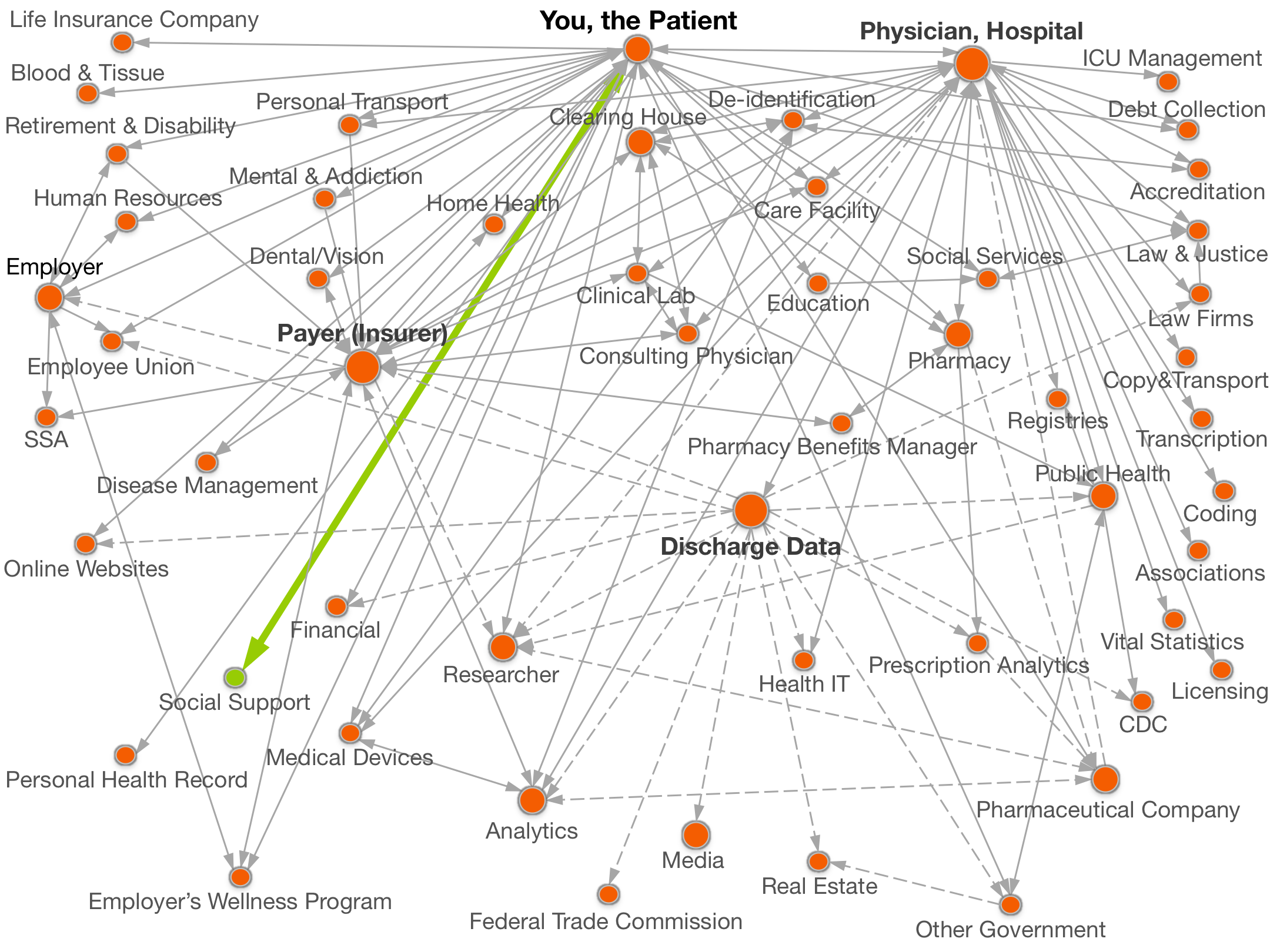 Legend:

with your name,
without your name.
Click on a circle above for names of organizations and details of data shared.
Social Support organizations are private groups that focus on a range of issues including children's health, family planning, wellness and veteran affairs. This includes groups run by religious organizations, non-profits and for profits. Health information is collected while assisting you as well as any medical procedures or medications they assist you in obtaining.
Examples
| | | |
| --- | --- | --- |
| Consumers for Affordable Health Care purchases statewide personal hospital discharge data from at least ME [source]. See more information about the fields of data shared, an example of matching real names to the records in statewide discharge data, and which states use standards less than the HIPAA standard. | | Adult Industry Medical Healthcare Foundation (AIM Medical Associates P.C.) had a data breach in 2011, in California. Over 12,000 current and former adult film performers had their names, home addresses and other personally identifying information posted on the internet. It appears that information from people who tested for HIV and other sexually transmitted diseases at the Adult Industry Medical Healthcare Foundation (AIM) was obtained somehow and misused.UPDATE(5/3/2011):A privacy lawsuit and other troubles caused AIM Healthcare to shut down and file for bankruptcy.UPDATE (7/26/2011): The website that contained the personal and medical information of porn actors, PornWikiLeaks, was forced to shut down after being targeted by hackers. [source]. |
| | | |
| Environmental Health Coalition purchases statewide personal hospital discharge data from at least CA [source]. See more information about the fields of data shared, an example of matching real names to the records in statewide discharge data, and which states use standards less than the HIPAA standard. | | Alaskan AIDS Assistance Association (Four As) had a data breach in 2010, in Alaska. A data storage device containing client names and contact information was stolen from Four As executive directors car. Some clients had their Social Security numbers on the device. [source]. |
| | | |
| Mid-City Comm. Advocacy Network purchases statewide personal hospital discharge data from at least CA [source]. See more information about the fields of data shared, an example of matching real names to the records in statewide discharge data, and which states use standards less than the HIPAA standard. | | American Ex-Prisoners of War had a data breach in 2007, in Texas. Personal records including addresses and Social Security numbers of more than 35,000 veterans and their families were stolen this month from the offices of a POW support organization in Texas. Digital and paper records included information on the groups entire membership, including addresses, dates of birth, Social Security numbers and VA claims data. (35,000 records involved) [source]. |
| | | |
| National Health Foundation purchases statewide personal hospital discharge data from at least CA [source]. See more information about the fields of data shared, an example of matching real names to the records in statewide discharge data, and which states use standards less than the HIPAA standard. | | Booker T. Washington Community Center had a data breach in 2007, in New York. A laptop computer with personal information of individuals who applied for Family Health plus or Child Health Plus state health insurance program benefits was recovered when a woman tried to sell it at a pawn shop. [source]. |
| | | |
| Niagara Health Quality Coalition purchases statewide personal hospital discharge data from at least CA WA [source]. See more information about the fields of data shared, an example of matching real names to the records in statewide discharge data, and which states use standards less than the HIPAA standard. | | Catholic Social Services had a data breach in 2011, in . The February 1 theft of a contractors laptop may have exposed client personal and health information. The laptop was stolen from the car of an out of state contractor working for the Pregnancy Support and Adoption Services program. It contained personal information that included names, addresses, phone numbers, email addresses, dates of birth, drivers license information, health information, family histories, financial statuses and recommendation for readiness to adopt. Individuals who requested a home study in order to adopt a child between 2008 and 2010 were among those affected. [source]. |
| | | |
| Psch, Inc purchases statewide personal hospital discharge data from at least NY [source]. See more information about the fields of data shared, an example of matching real names to the records in statewide discharge data, and which states use standards less than the HIPAA standard. | | Child and Family Services of New Hampshire had a data breach in 2013, in New Hampshire. Someone took 23 files from a secure area in the Child and Family Services of New Hampshire main office sometime between March 15 and March 18. The breach was discovered on March 19. The files contained client names, dates of birth, addresses, Medicaid numbers, notes from home visits, and other health information related to home visits. [source]. |
| | | |
| | | |